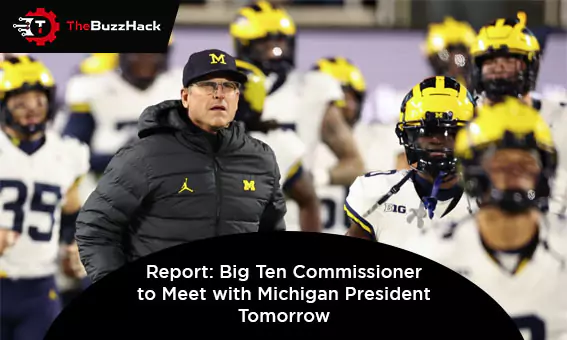 Report: Big Ten Commissioner to Meet with Michigan President Tomorrow
The current focus in the world of Big Ten athletics centers on the continuous inquiry into allegations of sign-stealing by the Michigan football team. Meanwhile, the Big Ten field hockey tournament is progressing, with matches set to take place on Friday in Ann Arbor. The conference commissioner, Tony Petitti, is scheduled to visit the campus.
According to a report from Nicole Auerbach of The Athletic, it has been revealed that Petitti is expected to meet with the President of Michigan, Santa Ono, tomorrow.
I'm told Tony Petitti is expected to meet with Michigan president Santa Ono on Friday. https://t.co/rLCY4zWDxw

— Nicole Auerbach (@NicoleAuerbach) November 3, 2023
While the NCAA investigation is ongoing, suggesting that a resolution from the organization may not be imminent, the Big Ten holds the authority to take action and potentially impose penalties on Michigan if it deems such measures necessary.
According to reports, Big Ten football coaches convened for a conference call on Wednesday, during which some of the participants strongly advocated for the league to step in.
"Collectively, the coaches are urging the Big Ten to take immediate action," a source informed ESPN's Pete Thamel. "What are we waiting for? We are fully aware of what has transpired." Auerbach also pointed out that the call appeared to serve as a platform for coaches to voice their concerns, with one source expressing frustration that the "playing field is currently far from being level."
Source briefed on the Big Ten coaches' call, which had an airing of grievances: "The playing field is not level right now. How can you have a team that you know has a competitive advantage over you still being allowed to play? That's what the coaches are grappling with."

— Nicole Auerbach (@NicoleAuerbach) November 2, 2023
Let's wait and see what unfolds following the Friday summit involving Petitti and Ono.
Read More: What sets Salesforce CRM apart in 2023? Discover the top reasons