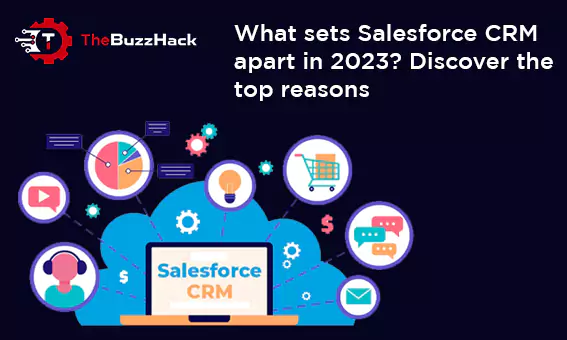 What sets Salesforce CRM apart in 2023? Discover the top reasons
Are you in need of a Salesforce solution for your business? Does your business require Salesforce development services? If you're looking for answers to these questions and the services you desire, we've covered everything that makes Salesforce stand out in 2023.
Every day, a massive amount of data is collected, whether in government, non-profit organizations, or especially businesses. As a result, there was a need for a solution to analyze this data and address the unique requirements of everyone. To fill this gap, the world's leading CRM (customer relationship management) solution, Salesforce, stepped in. Salesforce offers the top and most effective solution that businesses need the most.
Salesforce is a top-notch cloud computing solution that comes with the power of AI (artificial intelligence) and ML (machine learning). It's a smart tool that simplifies various practices across different industries. With Salesforce, businesses can gain valuable insights into customer behavior, enabling them to provide a personalized experience and make informed decisions. Furthermore, Salesforce offers specialized solutions like Salesforce Marketing Cloud for marketing, Sales Cloud for sales, Service Cloud for services, and more. We've covered all the essential aspects that any business should consider when implementing Salesforce.
What is Salesforce CRM?
Salesforce is well-known for its special cloud computing solution. It's basically a system designed to help companies manage their relationships with customers. Businesses use Salesforce CRM to handle things like customer data, sales activities, and marketing campaigns.
What's great about Salesforce is that it works with various tools and features that can help businesses improve their relationships with customers. It allows companies to collect customer data, organize it, and cater to their customers' needs more effectively. Salesforce also offers a wide range of third-party integrations, including applications and services, which make it one of the most powerful and distinctive CRM systems available compared to other options.
Find Out Salesforce CRM Advantages
Salesforce is incredibly beneficial for businesses. It offers advantages for both startups and Fortune 500 companies. Even startups that have adopted Salesforce solutions are reaping the rewards, such as a 29% increase in sales productivity, a 27% reduction in support costs, a 27% decrease in business acquisition costs, and the elimination of time-consuming tasks, saving 20 hours every week.
Salesforce stands out among other Customer Relationship Management (CRM) solutions for various reasons.
Salesforce for Marketing:
Salesforce's marketing solution is packed with advanced technology, enabling organizations to run effective marketing campaigns, gain insights into customer behavior, and provide personalized customer experiences. With such insights, marketing teams can enhance their performance and offer customers the products or services they're searching for.
Salesforce for Customer Support:
If you're tired of the constant hiring and firing of support team members or dealing with repetitive tasks that frustrate your business and customers, Salesforce has a top-notch solution. Their support system helps you efficiently track customer issues and maintain data, leading to customer satisfaction and streamlined business processes.
Salesforce in Management:
Salesforce's management features provide customizable dashboards, extensive reports, and a wide range of tools to take your management to the next level. If you use Salesforce for your business, you'll find that it streamlines processes and produces results in less time. You can also visualize performance through data analysis.
Salesforce Training and Support:
If you ever get stuck and need solutions, Salesforce has a large community to assist you. Whether you're facing issues, need app development services, or want to customize your dashboard, Salesforce's support team and community are just a click away, ready to guide and support you. They provide solutions for your business needs.
Salesforce App Integration:
If you encounter challenges, Salesforce offers solutions to bridge the gap. The Salesforce app exchange provides various applications that cater to business needs. You can customize applications to resolve specific issues, ensuring they work effectively for you. This process, known as Salesforce app development, is one of the key reasons why Salesforce is such an effective solution for businesses of all sizes.
Is this conversation helpful so far?
Why Salesforce?
Discover the key advantages of using Salesforce for your business. Our extensive research on Salesforce has revealed a wide array of benefits, including various tools, features, and third-party solutions to support your company.
Bridging Companies and Customers:
Salesforce's business solution brings together companies and their customers. Wondering how Salesforce accomplishes this? We'll explain below. Discover what makes Salesforce one of the most powerful and effective CRM platforms available.
Unifying Your Marketing Efforts:
Salesforce CRM connects your marketing initiatives seamlessly.
Enhancing Sales Team Connectivity:
Your sales team can stay connected and collaborate more effectively.
Streamlining Commerce Operations:
Salesforce simplifies your e-commerce business practices.
Efficient Service Delivery:
Deliver your business services with ease, no matter where you or your team are located. Salesforce CRM, specifically Customer 360, connects all your team members and ensures that you serve your customers according to their preferences. This initial step propels your business towards peak performance, providing your customers with the personalized experience they desire.
The Top Reasons for Choosing Salesforce CRM Over Others:
Discover why Salesforce stands out as the top and most effective solution for businesses. These reasons have significantly benefited businesses by offering the services they require. Take a closer look at the advantages of implementing Salesforce CRM solutions:
User-Friendly Interface:
Salesforce CRM is known for its ease of use, surpassing other CRM solutions.
Mobile Accessibility:
Stay connected with your team or colleagues even while on the go or during vacations, thanks to Salesforce's pioneering mobile CRM solutions.
Robust Reporting System:
Salesforce provides a top-notch reporting system to help you take informed actions and understand your customers' behavior.
Supportive Community:
Salesforce boasts a diverse community that aids both learners and companies, ensuring you have access to the assistance you need.
Customer-Centric Approach:
It's a platform designed for customer success, ensuring your clients receive the service they deserve.
Customizability:
Tailor Salesforce CRM to your unique business requirements with development services.
Scalability:
As a multi-tenant platform, Salesforce is suitable for businesses of all sizes, including Fortune 500 companies.
Seamless Integration:
Easily integrate Salesforce CRM into your existing systems, regardless of your company's size.
App Exchange Ecosystem:
Access a wide range of effective solutions through Salesforce's app exchange ecosystem to cater to your specific needs.
These compelling reasons drive businesses to choose Salesforce CRM solutions. If you compare them to other CRM systems, you'll find that alternative solutions lack the functionality and comprehensive ecosystem required to support businesses effectively.
Wrapping up
Salesforce CRM is the world's #1 CRM system. Its business values, top solutions like an App exchange ecosystem, customizable dashboards, Learning to develop jobs in multiple fields, predicting systems, and much more are making Salesforce CRM one of the top solutions for businesses. One of the best parts businesses and learners love about Salesforce CRM is that it has vast opportunities for businesses and learners. If you are looking for a Salesforce CRM complete service.
Read More: Exploring Manufacturing in the Era of IoT: Utilization, Benefits, and Challenges