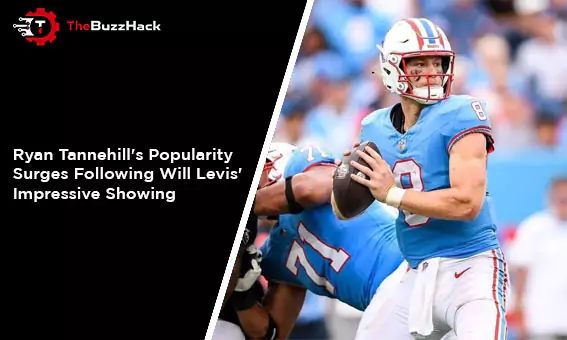 Ryan Tannehill's Popularity Surges Following Will Levis' Impressive Showing
Ryan Tannehill's future with the Tennessee Titans seems uncertain after their recent Thursday night game. Will Levis, who started the season as Tannehill's backup, has now assumed the starting quarterback role and is making a compelling case for himself as the team's long-term signal-caller. His recent performances have been nothing short of remarkable.
Just last Sunday, Levis led the Titans to an exhilarating 28-23 victory, sealing the win with four outstanding touchdowns. He continued to impress in the Thursday night matchup against the Pittsburgh Steelers, completing an impressive 70.6% of his passes for 153 yards in the first half alone.
As a result, the emergence of Will Levis as the Titans' new quarterback sensation has taken over social media and captured the attention of everyone. The Tennessee Titans' future appears to be on the cusp of a significant transition
Ryan Tannehill not throwing that pass

Will Levis threw to Hop

Just saying

— Dez Bryant (@DezBryant) November 3, 2023
I firmly believe that Tannehill was intentionally undermining Kyle Philips," read another tweet
I'm convinced Tannehill was sabotaging Kyle Philips. #Titans

— Jake Robertson (@GloryDaySports) November 3, 2023
If Tannehill plays another down in Tennessee it's malpractice

— Paul🅿️🦃 (@blakebooming) November 3, 2023
Levis 12 of 17, 153 yards and led a long go-ahead field goal drive in the final 1:15 of the first half at Pittsburgh. Rookie QB still dealing after a huge debut, now on a short week vs. a good D on the road. Tannehill got Pipped. https://t.co/LRHCwknkUC

— Kyle Tucker (@KyleTucker_ATH) November 3, 2023
1st half thoughts…

Tannehill doesn't take another snap

Burks is no where to be found AGAIN

WILL LEVIS IS TURNING HEADS

— ⚔️NJ TITANS FAN⚔️ (@J13Foote) November 3, 2023
At this juncture, regardless of Will Levis's performance in the second half, it's clear that he's earned the starting role going forward, even with Tannehill back in good health," exclaimed another tweet. 💪🏈 #GameChanger #LevisEra
At this point, even if if Will Levis craps the bed in the 2nd half, this is enough to make him starter moving forward, even with Tannehill healthy.

— Ben (@Its_Ben_B) November 3, 2023
will levis is actually so clear of tannehill and it ain't even close. such a breath of fresh air

— avery (@JaMarrJungle) November 3, 2023
We'll need to observe if Levis can maintain this impressive performance in the second half. You can catch the Titans-Steelers game on Amazon Prime Video
Read more: What sets Salesforce CRM apart in 2023? Discover the top reasons